Introduction of the ICT4Water cluster

The ICT4Water cluster is a hub for EU-funded research and innovation projects on ICT applied to water management. Member projects are both ongoing projects, such as PrimeWater, as well as completed projects that were members of the cluster before their completion. Currently, around 60 projects are members of the cluster from which 37 are active and we are pleased to see that PrimeWater is one of them. This permanent link between the cluster and the projects, even after their completion, helps showcasing project results and supports their dissemination and exploitation.
The cluster has been established in 2013 to stimulate collaboration and knowledge exchange between projects and provide advice to EU policy makers on water related issues. This has resulted in the 'Digital Single Water for Water Services Action Plan' which was developed by the cluster and adopted by the European Commission in 2019 and is now collaboratively implemented by the member projects. In seven thematic Action Groups, the topics Actor Awareness, Interoperability and Standardisation, Cyber Security, Smart Water, Data Sharing, Policies and Business Models are being investigated, aligned across the water value chain and brought to the next level.
The initial leadership of the cluster was in the hands of the EC Directorate-General for Communications Networks, Content and Technology (DG CNECT). In 2018, the leadership of the cluster was transferred to the Executive Agency for Small and Medium-sized Enterprises (EASME) while the cluster's activities are coordinated by a management team made of two representatives from EASME, one from DG CNECT and three external experts from projects which are members of the cluster.
For more information check the ICT4Water website and to stay up to date of the activities and results of the cluster and its member projects, please subscribe to our quarterly newsletter.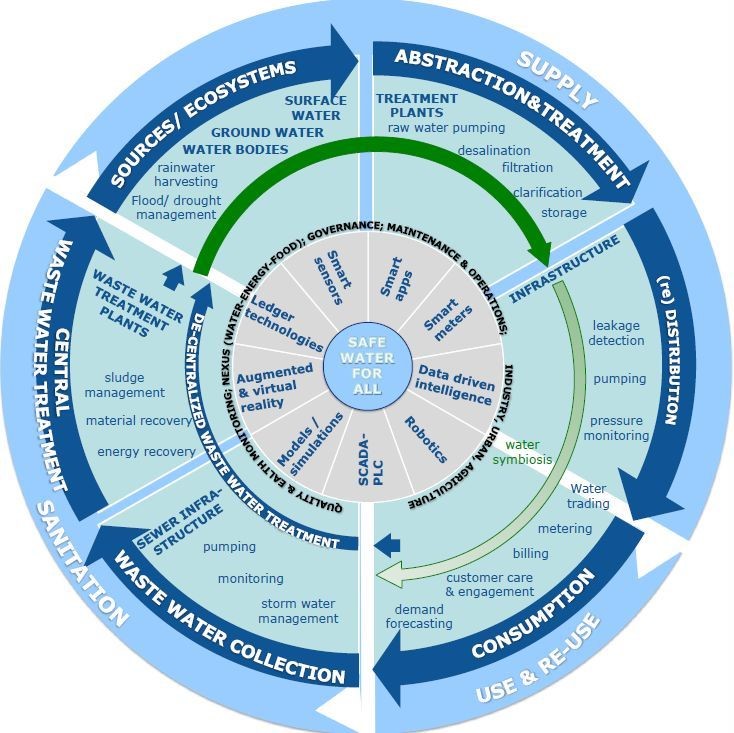 Water value chain