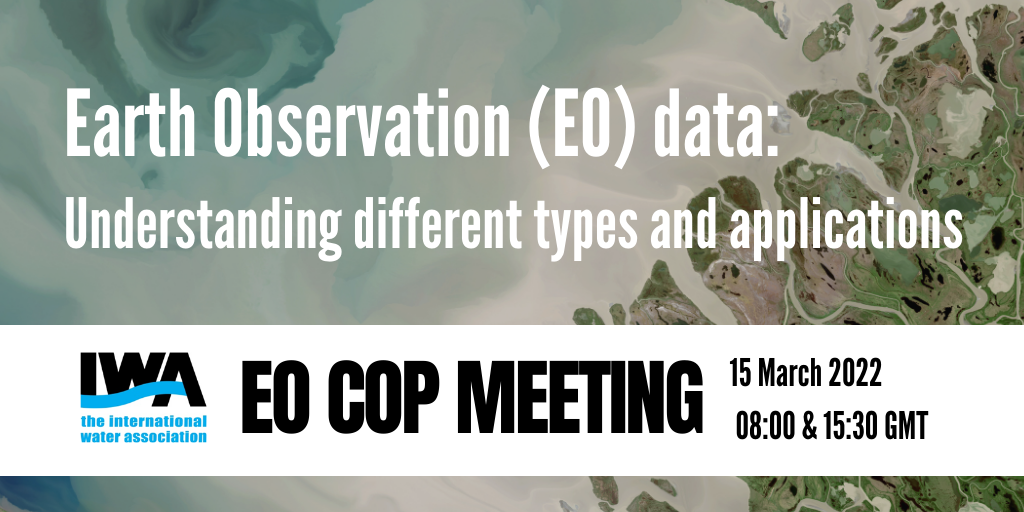 PrimeWater joined the IWA Community of Practice on EO technologies for water management!
On 15th March 2022, PrimeWater joined the first meeting of the International Water Association Community of Practice on Earth Observation Technologies for water management.
The CoP brings together experts from different sectors of the water industry interested in the use of Earth observation technologies for improved water quality and quantity management. The CoP links the IWA, the PrimeWater H2020 EU project, and the GEO AquaWatch initiative.
The CoP aims to:
Provide a platform to share approaches on the application of EO technologies for water management for different end-users (e.g. urban water, drinking water, water resource management, environmental protection, aquaculture, and emergency response),

Enable linkages between cross-cutting scientific communities and end-users to attain a better understanding of how EO technology can be best used, and what are needs of end-users and

Identify gaps and how these can be addressed in the understanding and use of EO technology in managing water.
The first meeting of the CoP was moderated by Samuela Guida, IWA Strategic Programmes and Engagement Manager, and Erin Jordan, IWA Strategic Programmes Officer. IWA is a key partner of the PrimeWater project, leading the Communication, Dissemination, and Exploitation Strategy as well as end-users engagement.
At the meeting, Evangelos Romas, EMVIS SA Head of the Research and Development Unit, and Apostolis Tzimas, EMVIS SA Managing Director and coordinator of the PrimeWater project, presented the PrimeWater's Operational Platform and joined the breakout rooms and moderated panel discussions.
Tapas Biswas, Senior Research Consultant at the Commonwealth Scientific and Industrial Research Organisation (CSIRO), also contributed to the discussion with a presentation on "Development of an EO based optimal integrated water quality monitoring and forecasting system for inland and coastal waters". In PrimeWater, CSIRO is responsible for implementing, validating, and testing new EO data, as well as producing near-surface hyperspectral data for ingestion into modeling.
Both Tapas and Apostolis are members of the CoP Steering Group.
Eva Haas, Head of Strategic Accounts at EOMAP, also joined the experts' panel with a presentation on "Next level water quality monitoring". Within PrimeWater, EOMAP is supporting the development of the EO Science Virtual Laboratory, turning the data acquired by multispectral sensors on Landsat 8 (L8) and Sentinel-2 (S2) into information on water status and quality.
Other panelists were Christian Tøttrup, Leading Earth Observation Scientist at DHI GRAS; Kenneth Mubea, User Engagement Manager in the Establishment Team at Digital Earth Africa; and Lisa-Maria Rebelo, Principal Scientist in Earth Observation at the International Water Management Institute.
To learn more about the CoP, visit: https://iwa-network.org/projects/earth-observation-for-water-management-community-of-practice/
The presentations and recording will be available on IWA website: https://iwa-network.org/learn/earth-observation-eo-data-understanding-the-types-and-applications-cop-meeting/
Tags In