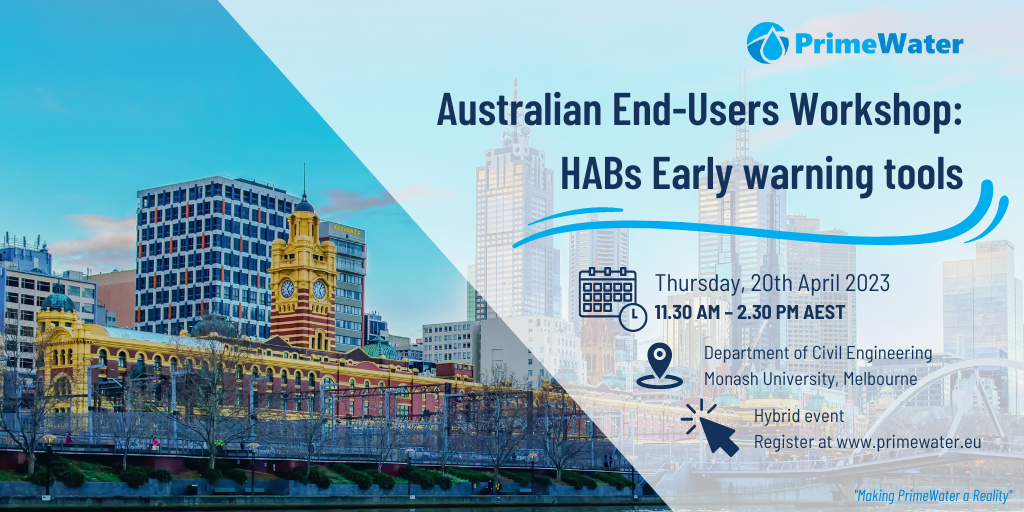 Australian End-Users Workshop: HABs Early warning tools – Presentations and recording now available
It is now possible to download the presentations of the Australian End-Users Workshop: HABs Early warning tools and to watch the recording of the session. 
The presentations are available below. 
To watch the recording of the session, please visit PrimeWater YouTube Channel: https://www.youtube.com/watch?v=tgmG8qtXYaQ
Download the report here: https://www.primewater.eu/wp-content/uploads/2023/03/Report_AUS_MUP.pdf
---
When: 20th April 2023 (11.30 AM – 2.30 PM AEST)
Where: Rooms G29 and G30 (Ground floor), New Horizon Building, 20 Research Way, Clayton VIC 3800, Department of Civil Engineering, Monash University, Melbourne
Format: Hybrid event
Target participants: The meeting is open to everyone but the main audience will be utilities, water managers and representatives from local and regional stakeholders within the Murray-Darling Basin
Background
Many inland water bodies in Australia and around the globe often experience algae blooms that can impede public health since many of them supply household needs for towns and landholders. In Australia, water from reservoirs is mainly used for stock needs, irrigation, recreation, flood mitigation, and hydroelectricity, demonstrating the significant socioeconomic impact that water quality outbreaks might incur.
PrimeWater is a Horizon 2020 (the EU Research and Innovation program) funded project, that aims to maximize the potential of the Earth Observation (EO) technologies for the water sector by enhancing and expanding the information base for inland water quality attributes, integrating multi- and hyperspectral imagery from satellite, airborne and ground-based sensors with models, increasing the situational intelligence of water regulators, emergency planners, water-related industry professionals, and local communities.
Lake Hume and Melbourne Water are the case studies where the PrimeWater consortium explored the predictability of algal blooms – in terms of timing, extent, and intensity employing both process-based and data-driven, machine learning models.
Objectives
This workshop intends to initiate a discussion on short to medium-term water quality forecasts into an early warning service for HAB outbreaks. The main objectives of the workshops are:
To inform local/regional end users of the findings of the PrimeWater and demonstrate operational forecasting service for inland freshwater

To discuss how forecast-based early warning services for HAB can improve risk management operations
Agenda
Time
Item
Responsible

11:30-11:35

11:35-11:40

11:40-11:45

Welcome

Workshop objectives and Structure

Introduction of Aquawatch and its relevance to this workshop

Ha Bui – Monash Uni

Samuela Guida – IWA

Neil Sims – Aquawatch Australia

11:45-12:00

Tools for hydro-ecological hazards exposure and vulnerability reduction

Apostolis Tzimas – EMVIS

12:00-13:00

Short to medium-term forecasting of HABs:

•Using ML algorithms as a basis of an Early Warning System  for HABs in Lake Hume

•Setting up an EO-based forecasting  service for proactive management  of algae bloom events in a recreation area in Lake Harsha

•Towards  a  multi-objective Water Quality Forecasting Service – The watershed digital twin  concept implementation in Mulargia – Fulmendosa Reservoirs

Evangelos Romas – EMVIS

13:00-13:10

Discussion (Q&A) and homework

Tapas Biswas – CSIRO

13:10-13:30

Mini break with lunch provided

13:30-14:25

Round table discussion and stakeholders' expectations

Moderated by Arnold Dekker – SatDek

14:25-14:30

Closing

Arash Zamyadi – Monash University